What a busy day! We started out eating gluten free pancakes at the bed and breakfast, then hurrying over to the Ingall's Homsetead. The Ingalls' family lived both in town and on their homestead. We really enjoyed joining a field trip of third graders from a nearby town. This picture gives you an idea of what it must have looked like a hundred years ago:



At the Homestead, the girls made corncob dolls, ground wheat in a coffee grinder, made rope, and rode in a covered wagon.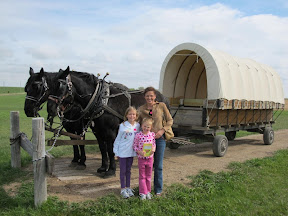 We visited a one-room school, investigated a replica of the claim shanty Pa built...
and pretended to keep house in a dugout (I'm so glad I didn't have to live in one of those!!).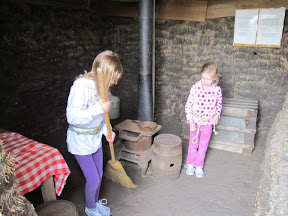 After that, we headed for Walnut Grove, MN. The Laura Ingalls' Museum in town is just that...a museum. Margaret got bored just looking at exhibits, although Meredith and I learned some interesting things. They both enjoyed the hands-on room where they could play. Unless you like looking around at museum exhibits though, this is a place I could have skipped.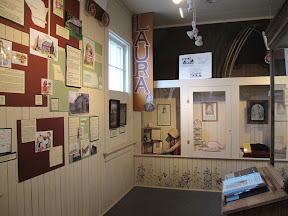 The thing the girls had most been looking forward to was playing in Plum Creek. Unfortunately, they have gotten LOTS of rain up here and the creek was very full. We did see the impression of where the dugout was.
The girls wanted to get into the water, although there was only mud. Here is a picture of Mererdith right before she got a leech on her!
When I found a tick on me, we decided to call it a day and head to Mankato. We had gluten-free pizza at Godfather's Pizza and now the girls are swimming in the hotel's indoor pool. I'll leave you with Laura Ingalls Wilder's Scriptural guide (which I have a copy of if anyone wants one):
- Posted using BlogPress from my iPad